LIFE: The Great Challenge - by Royce B. McClure
---
FIRST TO COMPLETE IN OHIO, USA
January 18, 2008

Dave Landwehr - Ottoville, Ohio.
Assembled between November 18th, 2007 and January 18th, 2008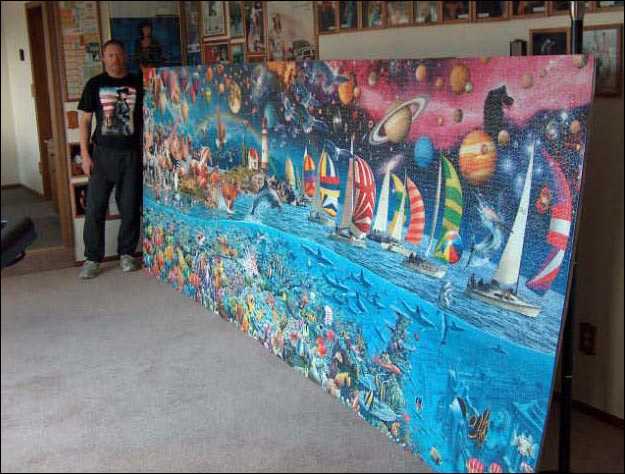 It took me two months to put it together. The lost city was the hardest part and the last portion that I put together. I've put together many 1,000 pc. puzzles before, but nothing bigger. It usually takes me 7 hours to put a 1,000 pc. puzzle together. My times on this puzzle:
The 1st section took 12 days to complete. (I had two weeks holiday shutdown for thanksgiving.)
The 2nd section took 3 weeks to complete, working a couple of hrs. a night after work and weekends.
The 3rd section took 10 days to complete. (I had a week and a half off X-mas, New Years shutdown.)
The 4th section took 17 days to complete. (5 days during the week after work for the Lost city part.
It took 10 to 15 hrs. to do that part.)

I enjoyed it very, very much and would love to do another, maybe even bigger. Dave Landwehr - Ottoville, Ohio, USA
---
Join the Challenge!