---
FIRST INDIVIDUAL TO COMPLETE IN CALIFORNIA.
FIRST TO COMPLETE IN MARTINEZ, CA.
February 29, 2008
Janet Klasey - Martinez, CA. USA
Assembled between May 8th, 2007 and February 29th 2008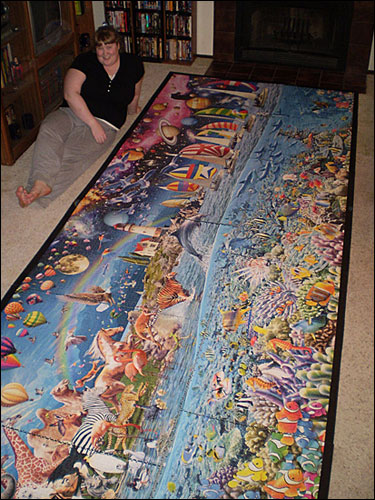 My name is Janet Klasey, I am 23 years old, and I have been doing puzzles for as long as I can remember. Starting out with those little wooden 10 piece puzzles and now completing the biggest in the world. It was a little mind boggling when I had finally finished it. I ordered the puzzle at the beginning of February of 2007, through bitsandpieces.com, but it kept getting backordered, so I didn't actually receive it until May 8, 2007, at 8:45 pm. I broke open the first bag the very next day. I had opened the box that night, I couldn't resist, but I restrained myself from starting on it until after work. Originally, I set myself a goal of 6 months to get it completed. I realize that it seems a little long, but I figured about 1,000 pieces a week between work, sleep, and my normal activities. I also printed monthly format blank calendars so that I could keep track of which days I worked on it and how long (down to the quarter hour). After I finished each quarter, I glued each piece to foam core board and then moved onto the next quarter. After reading about those few people who mixed all the pieces together before starting, I can only imagine how much sorting they would have had to do. It was enough that I had 6,000 pieces at a time to deal with. Once the six month mark hit, I was still working on the bottom section of the third quarter and I was starting to get a little burned out. The bottom sections (I considered the underwater views to be the bottom sections) were the worst of the whole thing. There was a lot of coral and then when I got to the last quarter, all that blue... Wow! I continued to work on it during November but from November 16 to January 1st, I took a break from it. I needed to step away, clear my mind, etc. I didn't work on it very much in January but it was steady progress, if not slow. January 30th hit and I really buckled down. I worked on it almost every single day until February 29th at 9pm, when I fitted that last piece. Man, what a feeling! March 2nd, 3rd, and 4th were used to glue the last quarter, but I still think of February 29th as my finish date. I was so excited when I put that last piece in! Total actual puzzling time (including sorting pieces as I went) was 362.5 hours. This total does not include the 49.75 hours that was spent gluing (about 12 hours for each quarter, except the third; for some reason that one took a little longer). As I went, I took progress pictures and posted them on my website. The two links to those pages are below: http://www.puzzlemeister.net/life.html http://www.puzzlemeister.net/life2.html Sorting the pieces was one of the big challenges, even working with only 6,000 at a time. For the first two quarters, I ended up picking through and putting together groups as I went, then when I had all but most of the background pieces, I sat down and sorted them. When I got to the third and fourth quarters, I decided to sort through them completely and then put the groups together. In preparation of all this sorting, I had been saving the empty boxes from the puzzles that I had completed before May. I pick my puzzles based on what catches my eye. Most of the ones I do have the big cats like lions, leopards, or tigers, but a lot also have wolves, eagles, dragons, or unicorns. If they have sunsets, that is a huge bonus. I also enjoy the 3-D puzzles; most of those I have done were castles. I picked this puzzle mostly because of the artistry behind it and all the animals. It also peaked my interest because of the number of pieces and I felt I was ready for it. In the past, I have been tempted by the 18,000 piece puzzle made by Ravensburger of the tropical scene (I ended up getting the smaller version of that one) and the 13,200 piece puzzle made by Clementoni with all the marine life. But neither of them peaked my instant interest like this one. This puzzle was certainly a defining experience, and not only because of its sheer size. It really let me know my limits, how much I could stand of certain colors (I think I've had enough coral and water for a while) and what I was prepared to do to follow through to a goal. I would certainly consider this a very difficult puzzle in terms of the number of pieces, but the sections themselves were more time-consuming than anything else. I mean, imagine needing 20 pieces just to complete a tiny little crab, and that doesn't include the rock he's sitting on. If anyone was considering doing this puzzle, I would certainly never dissuade them, but I would want them to consider just how much time (and space) it is going to take up.