---
FIRST TO COMPLETE IN CZECH REPUBLIC.
FIRST FAMILY TO COMPLETE IN CZECH REPUBLIC
March 15, 2008


The Nedbálek Family ..
Ctirad & Jirina and their two sons: Lukas (6) and Michal (5) - Prague, Czech Republic.
Assembled between November 2007 and Mid March 2008 Our names are Ctirad (31), Jirina (31), Lukas (6) and Michal (5) and we live in a small village close to the capital city of the Czech Republic - Prague. We bought the LIFE Puzzle in November 2007 and it was much more a coincidence than an intention. Our list of previous puzzle successes only contains two 1000 pieces puzzles and one wouldn't describe us as some extreme puzzle fans. However for many years we were talking about buying an extraordinary puzzle. Our secret dream was 10000 or 12000 pieces exemplar. As we started to think about the traditional common family present for Christmas 2007, such a large puzzle was one of the tips. We went to the Internet to make the choice. After having found several 10000 pieces motives we discovered a 16000 pieces one that however was not a very attractive. After a while we found three 18000 pieces puzzles and we thought our searching was finished. Just a minute before ordering one of them, the LIFE Puzzle appeared on the screen. The Christmas present for 2007 was selected :-).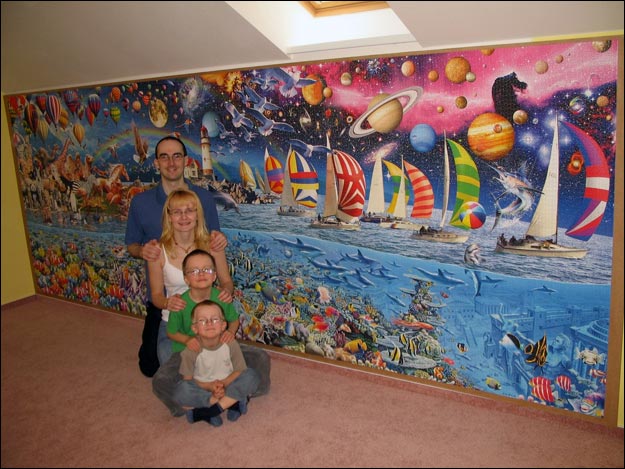 The first challenge was to find a place in our house offering enough space to build one part of the puzzle. We spent about 3 seconds considering the possibility of mixing all 24000 pieces together :-). Finally we decided to use our living room though it was clear from the very beginning, that the comfort of our living was going to drop for a while. Another major decision was done before starting the puzzle - no race against the time! We wanted to enjoy the time with the puzzle and had no ambitions to beat some record. With this resolution, it was easy for us to decide every day whether we want to build or not. Therefore there were days, when we spent 8 or even more hours building as well as days, when we didn't touch the puzzle at all. After all we both work and during the weeks the only opportunity to build was in the evenings. On an average, we spent 1 month with every quarter of the puzzle. Ctirad was responsible for the undersea part, Jirina was in charge of the air and land part. Depending on our momentary energy and effort, in some quarters we met at the undersea / land border, in some quarters above or below. Our children - Lukas and Michal - were choosing carefully the parts that they liked and enjoyed the most. Usually the most difficult parts remained for us :-). But even though both of them are very young, they were very helpful and sometimes seemed to have more patience and visual imagination than us two together :-). In mid March 2008 the puzzle was finished and divided into several pieces stored on polystyrene boards (100 x 50 centimeters) under our bed. This was the time when the last challenge started. How to get the puzzle on the wall? We chose one wall in our children's room as the most suitable for mounting the puzzle. We spent many hours searching the Internet looking for some hints on how to mount such a huge puzzle. We were not very successful, so we decided to share our method with you.

Mounting the puzzle for display:

We decided to use the hardboard of 3 millimeters thickness. We bought 4 large boards, each 110 x 160 centimeters large. To bind the boards together, we used several narrow (25 centimeters) bands of the same hardboard stuck on a back side of the large boards. 3 bands were used to firm the longer borders (160 centimeters) of the large boards. Another 3 bands were used to create some kind of frame on the top edge of the boards. Into this frame, we installed 11 special hardboard hooks. We doubted a bit whether this would be enough to hold the total mass of the puzzle plus the! board itself. Naturally, we didn't weigh it, but our estimation was that the board weighs about 26 kilograms and the puzzle itself about 9 kilograms. So in total we needed to make sure that the hooks hold 35 kilograms.

We used a standard paper glue for both binding the boards as well as for pasting the puzzle itself. It dried pretty fast, so we didn't have too much time to adjust the puzzle after putting it on the board. But fortunately, it was not necessary. And what was our method to transfer the puzzle on the board? First of all, we didn't use any other connection methods than pasting the puzzle directly to the board. In order to transfer the puzzle carefully and precisely, we moved it from the polystyrene boards to 66 thin papers of A3 size (29.7 x 42 centimeters). Using these papers, it was very easy to attach each fragment of the puzzle and let it slip down to the board.

The entire process of pasting the puzzle on the board took us about 2 hours. Finally, after another 24 hours, we could make the very last step of this adventure. We put the finished board with the puzzle on the board. And believe or not, it didn't fall down (so far J).

We really enjoyed the puzzle very much. And hopefully it's going to stay on the wall so that we can enjoy it for ever. And of course - as most of the people in this Hall Of Fame - we already dally with the idea of buying the next World's Largest Puzzle, once launched on the market. J.

Good Luck to all of you who are going to start this unbelievable adventure called LIFE Puzzle!

Ctirad & Jirina & Lukas & Michal
---
Jmenujeme se Ctirad (31), Jiřina (31), Lukáš (6) a Michal (5) a žijeme v malé obci nedaleko Prahy, hlavního města České republiky.
Puzzle LIFE jsme si koupili v listopadu 2007 a byla to spíše náhoda než záměr. Seznam našich dosavadních úspěchů v oblasti skládání puzzle obsahuje pouze 2 puzzle o velikosti 1000 dílků, takže se rozhodně nepovažujeme za nějaké extrémní fandy do skládání puzzle. Přesto jsme už několik let uvažovali o tom, že si koupíme a poskládáme nějaké výjimečné puzzle. Náš tajný sen bylo puzzle o velikosti 10000 nebo 12000 dílků. Když jsme pak začali uvažovat o tradičním společném rodinném dárku k Vánocům 2007, bylo takové puzzle jedním z tipů. Rozhodli jsme se proto poohlédnout po Internetu.
Nejprve jsme objevili několik puzzle velikosti 10000, později jedno 16000, které nás ale moc nezaujalo svým vzhledem. Pak jsme objevili tři puzzle velikosti 18000 a mysleli jsme, že naše hledání je u konce. Když už jsme se chystali objednat jedno z nich, objevilo se na obrazovce puzzle LIFE. A tak jsme definitivně vybrali vánoční dárek pro rok 2007 J.
První výzvou bylo už samotné nalezení místa v našem domě, které by nabízelo dostatek prostoru pro složení jednotlivých čtvrtin puzzle. Asi tak 3 vteřiny jsme zvažovali možnost, že smícháme všech 24000 dílků dohromady J. Nakonec jsme se rozhodli použít náš obývací pokoj, i když bylo od začátku jasné, že komfort našeho bydlení tím na nějaký čas o hodně klesne.
Ještě před začátkem skládání jsme udělali další zásadní rozhodnutí – žádný závod s časem! Chtěli jsme si čas strávený skládáním opravdu užít, a neměli jsme proto ambice zlomit nějaký rekord. S tímto předsevzetím pak pro nás bylo velice snadné se každý den rozhodovat, zda chceme skládat nebo ne. Byly dny, kdy jsme skládáním strávili 8 i více hodin, ale také dny, kdy jsme na puzzle ani nesáhli. Koneckonců oba pracujeme, a tak jsme během týdně mohli skládat jen po večerech.
V průměru jsme s každou čtvrtinou puzzle strávili zhruba 1 měsíc. Ctirad byl zodpovědný za podmořskou část, Jiřina měla na starosti oblohu a pevninu. V závislosti na naší aktuální motivaci a energii jsme se u některých dílů potkali na rozmezí podmořského a pevninského světa, u jiných to bylo výš a nebo níž. Naše děti – Lukáš a Michal – si pečlivě vybíraly díly, které se jim líbily nejvíc. Většinou tak ty nejtěžší části zůstaly na nás J. Ale i když jsou oba ještě hodně malí, byli moc užiteční a občas se zdálo, že mají víc trpělivosti a vizuální představivosti, než my dva dohromady J.
V polovině března 2008 bylo puzzle dokončeno a v rozloženém stavu uloženo na polystyrénových deskách o rozměrech 100 x 50 centimetrů pod naší postelí. A v tu chvíli se objevila poslední výzva. Jak dostat puzzle na zeď? Jako nejvhodnější pro pověšení jsme vybrali jednu stěnu v dětském pokoji. Strávili jsme hodiny procházením Internetu a hledáním nějakých tipů a rad na zavěšení puzzle. Nebyli jsme ale příliš úspěšní. A proto jsme se rozhodli podělit se s vámi o naše zkušenosti.
Rozhodli jsme se použít sololit tloušťky 3 milimetry. Koupili jsme 4 velké desky, každou o rozměru 110 x 160 centimetrů. Ke spojení těchto desek jsme použili několik úzkých (25 centimetrů) pásů ze stejného sololitu, které jsme přilepili na zadní stranu velkých desek. 3 pásy jsme použili na spojení delších (160 centimetrů) sousedních hran velkých desek. Z dalších 3 pásů jsme pak vytvořili jakýsi rám na horním okraji desek. Do tohoto rámu jsme zasadili 11 speciálních sololitových závěsných háčků. Trochu jsme pochybovali, zda unesou celkovou hmotnost puzzle a samotných desek. Pochopitelně jsme to nevážili, ale náš odhad je, že sololitová konstrukce váží asi 26 kilogramů a samotné puzzle dalších 9 kilogramů. Takže celkem musely háčky udržet 35 kilogramů…
Na spojení sololitových desek i na lepení vlastního puzzle jsme použili klasické lepidlo na papír. Poměrně rychle schlo, takže jsme po nanesení puzzle na desku neměli moc času na jeho upravení. Naštěstí to nebylo třeba. A jaký postup jsme zvolili pro přenášení puzzle na desku? Především jsme k nalepení nepoužili nic jiného, než zmíněné lepidlo. Abychom dokázali puzzle nanášet přesně a pečlivě, přenesli jsme ho z polystyrénových desek na 66 čtvrtek formátu A3 (29,7 x 42 centimetrů). Z těchto papírů jsme pak jednotlivé části puzzle napojili a nechali sklouznout na desku.
Celý proces vlastního lepení puzzle na desku nám zabral asi dvě hodiny. Nakonec, po dalších 24 hodinách, jsme mohli udělat poslední krůček celého dobrodružství. Dokončenou desku s puzzle jsme zavěsili na zeď. Věřte nevěřte, nespadlo to (zatím J).
Tohle puzzle jsme si opravdu užili. A doufáme, že na zdi vydrží, abychom si ho mohli užívat napořád. A samozřejmě že stejně, jako většina lidí v této síni slávy, už koketujeme s myšlenkou pustit se do příštího největšího puzzle na světě, jakmile se objeví v prodeji J.
Hodně štěstí všem, kteří se teprve chystají vydat na neuvěřitelné dobrodružství nazvané puzzle LIFE!
Ctirad & Jiřina & Lukáš & Michal