LIFE: The Great Challenge - by Royce B. McClure
---
FIRST TO COMPLETE IN MEXICO.
FIRST INDIVIDUAL TO COMPLETE IN MEXICO.
April 2, 2008


Anabell Perez Munoz - Puebla, Mexico
Assembled between Mid-August 2007 and 2nd of April 2008
(Time: approximately 4 months - as had a break in the middle.) My name is P. Anabell Perez Muñoz, I'm from Puebla, Puebla Mexico, I'm 46 years old and I did the puzzle on my own; well, my husband put in 10 pieces (ha, ha). I started to build the puzzle in mid August 2007 but unfortunately my father-in-law died in November 2007 so I had to stop assembling it due to the mourning; I took it up again at the end of March 2008 and I finished it on 2nd April 2008 at 2:55 pm (approximately 4 months). I used to start assembling it at 6 or 7 pm and work until 2 am, or even 3 am sometimes; there were also some days when I couldn't do it at all due to work matters or family meetings.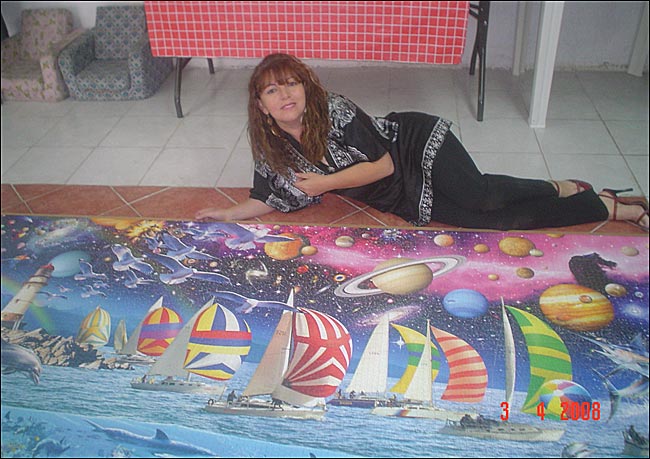 In the puzzle - the portion which had the planets and sailboats was the easiest; the lost city was the most difficult part (I had to assemble the pieces by their shapes, putting them together in small areas; this was really difficult, uff!). When I heard about the Hall of Fame, I didn't want to lose the chance to be the first Mexican to register for your web page, so I didn't attend my job for two days so I could finish it since the last part was the lost city. It was really difficult to distinguish the different shades of blue, so I could only work during the day. It seemed never-ending, and I made slow progress. I assembled this puzzle one bag/section at a time. I have almost 200,000 pieces in different finished and framed jigsaw puzzles. I ordered some of them from USA. I found out about the world's largest puzzle on the internet. Click images below to enlarge: Email Anabell: anabellperezm@hotmail.com
---
MI NOMBRE ES P. ANABELL PEREZ MUÑOZ, YO SOY ORIGINARIA DE PUEBLA, PUEBLA MEXICO, TENGO 46 AÑOS Y EL ROMPECABEZAS LO HICE SOLA,BUENO MI ESPOSO PUSO 10 PIEZAS JA, JA,EMPECE EL ROMPECABEZAS A MEDIADOS DEL MES DE AGOSTO DEL 2007, PERO EN NOVIEMBRE DEL 2007 DESGRACIADAMENTE FALLECIO MISUEGRO Y POR EL LUTO LO DEJE DE HACER, RETOMANDOLO A FINALES DEL MES DEMARZO DEL 2008 Y LO TERMINE EL DIA 2 DE ABRIL DEL 2008 A LAS 2:55 DE LA TARJE !GUAU¡ (4 MESES APROX). EMPEZABA A HACERLO COMO A LAS 6 Ò 7 DE LA TARDE Y TERMINABAA VECES A LAS 2 Ò 3 DE LA MADRUGADA, HABIA OCASIONES QUE PASABAN DIASY NO PODIA HACERLO POR ASUNTOS DE TRABAJO O REUNIONES FAMILIARES. LA PARTE MAS FACIL FUERON LOS GLOBOS Y LOS BARCOS, LA MAS DIFICIL FUE LA CIUDAD PERDIDA, EN ESTA PARTE TUVE QUE ACOMODAR LAS PIEZAS POR FORMA EN PEQUEÑOS CARTONES FUE MUY DIFICIL UFF¡ CUANDO ME ENTERE LO DEL SALON DE LA FAMA,NO PODIA PERDERME LA OPORTUNIDAD DE SER LA PRIMERA MEXICANA EN INSCRIBIRME EN SUPAGINA, ASI QUE FALTE A MI TRABAJO2 DIAS, PORQUE LA ULTIMA PARTE QUE FUE LA CIUDAD PERDIDA ME DABA MUCHO TRABAJO DISTINGUIR LAS TONALIDADES DEL COLOR AZUL, ASI QUE SOLO TRABAJABA DE DIA. PERO PARECIA
Anabell: anabellperezm@hotmail.com
---
Join the Challenge!