---
FIRST TO COMPLETE IN ASIA
FIRST TO COMPLETE IN PHILIPPINES
FIRST IN PHILIPPINES TO

MIX ALL 24,000 PIECES

TOGETHER BEFORE COMMENCING.
April 28, 2008


Gemberly Tan-Cagalingan - Binondo, Manila, Philippines.
Assembled between January 6th 2008 and April 28th 2008
(Time: 233 hours and 5 minutes.) I am Gemberly Tan-Cagalingan, 26 years old, from Philippines. I am glad I have finished the puzzle already all by myself, a task that is an adventure to do. I hope I am the first one to finish it in Asia and Philippines because I am aiming on that. It was a little late already when I saw this puzzle on the net because it was on the store since March, right?

I asked my aunt from USA to buy me the puzzle around October and ship it to my country, which is Philippines. The box arrived on November right after I got married. We are very busy with our house and our honeymoon that I didn't get to start it until January. Before I asked my aunt to buy the puzzle, I am really decided that I will mix up all the puzzle pieces against my father's advice (he do puzzles too!) because for me, if you don't mix it up, it is like doing 4 sets of 6000 pcs. puzzle.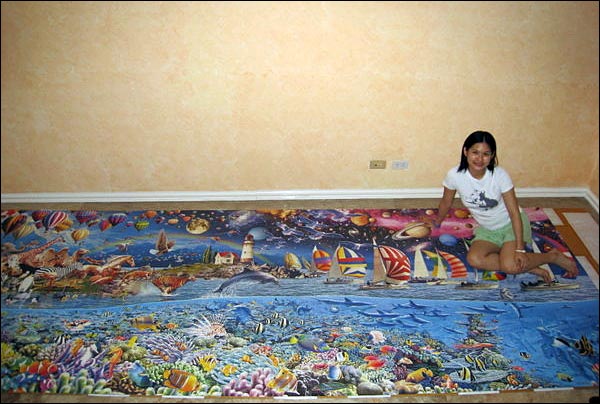 I started assembling puzzles when I was 11 years old and have done more than 200 boxes already, ranging from 500-3000 pieces. I have some doubts on myself that I won't be able to finish this Life puzzle because the most I have done is only 3000 pieces but I am determined to give it a try. I thought to myself that I might be doing the world's largest puzzle only once in my life and I got to try it while I am still young.

I used 5 cartons to make the board. I taped them together and it is not until January 5, 2008 that I opened the puzzle bags and mixed it. You can view the video below:

I started separating and assembling the pieces the next day and it took me 233 hours and 5 minutes to get it done (January 6 - April 28). During the period, I record my progress in a logbook and took 2 videos (100 and 203 work hours, respectively) which you can view below:

At first, it's really very hard to categorize the puzzle pieces into several boxes that I just separated some and did the others along the way. It's very hard to complete even a part of the picture since you need to find the pieces among the 24000 pieces. There are times that I wanted to give up but I pray to God to guide me and help me be strong and finish this project. I did the boats first, next comes the parachute, animals, planets, houses, sea level, rainbows, sky, some big fish, clown fish, lost city, and then the rest of the fish under the sea. For me, the hardest would be the small fish and the corals, next comes the clown fish and the lost city. I saw a pattern of the puzzle when I was more than 50% done already and I used it to assemble the clown fish and the lost city. The rest, I just assemble it without any pattern to follow. Finishing the puzzle makes me feel happy and sad at the same time. Happy because I got a new achievement, and it is a momentous one. My self-confidence increased and people are admiring my perseverance. We are in the tropical country and it is very hot but still, I do the puzzle even though I am sweating while doing it. I feel sad because I would miss the experience of doing a humongous puzzle. I do puzzles often and this is the best I have done so far. This puzzle have a sentimental value on me. After it was completed, I sat there and admired the work of Royce Mcclure, which is now an official Guinness World Record. It is very relaxing to look at and very colorful. On the next day, I separated the cartons by cutting through the tape and flipped them. I taped the back of the puzzle and covered it in the meanwhile with plastic to protect it. I am hoping that there will be a larger puzzle coming out soon so that I can get my hands on it. In the meantime, I am going to finish the pending works I need to do like choosing our wedding pictures to be printed on the album and I think... the next big task to come to my life is making a baby.... Thank you for my husband Sherwin & my family who supported and helped me, namely, Johny, my dad, Helen, my mom, Kimberly, my sister, & Kendrick, my brother. To my Aunt Sally and Uncle Junn, thank you for shipping the puzzle here. And lastly to my friends Stephanie Tiu & Rosemarie Chua for helping me achieve my dream. Better & better,
Gemberly P.S. People can see more pictures and my puzzle log books HERE

UPDATE ! - Watch Gemberly Tan-Cagalingan and the World's Largest Puzzle on Philippines Television!