LIFE: The Great Challenge - by Royce B. McClure
---
FIRST TO COMPLETE IN SAN PEDRO, CALIFORNIA, USA.
March 23rd, 2008


Eileen Kuljis - San Pedro, California, USA
Assembled between Feb 17th, 2008 and March 23rd 2008 (35 days)
My name is Eileen Kuljis, I'm from San Pedro, California, a suburb of Los Angeles. I didn't even know there was a site for this. Having completed the puzzle I was just looking to see if you made any others when I found the 'Hall of Fame'. I've had the puzzle since the end of last year but haven't had time to assemble it until recently. I've been making puzzles for more years than I want to say. I've always looked for the most challenging puzzles or the ones with the most pieces. Two years ago I made the Old World 18,000 piece puzzle by Ravensburger. Last year I saw the Life 24,000 puzzle and I knew I had to make it. It took me a month or so before I actually purchased it and then I couldn't wait to get it. One day I received a notice in the mail that the package had been destroyed in transit. I was so disappointed, I had to call and reorder which took another couple of months before they were able to fill the order. I asked them why it was going to take so long to get it, I thought it was because not many were made but to my surprise they said they have so many orders for it they can't keep it in stock. I understand why now, after putting the puzzle together, it's beautiful. Once I started putting it together I was hooked, I couldn't wait to get home and work on it each day. I didn't have a lot of time everyday but I would put in at least two hours each day, and quite a bit of time on the weekends. I didn't keep track of it in hours, I kept track of it in days. The first two panels went quick, the third was a little more challenging with the water area. The last panel was probably the toughest, I could see the end but the ancient city with all the blue was a challenge. In all I spent 6 weeks putting it together. Now I have to decide what to do with it: put it back in the box and give it to someone else to put together ... or glue it together and find a place to keep it where I can see it. I am considering mixing the the pieces all together and doing it again, not right away though! I'm looking forward to the next challenge, 28,000...32,000...What will the next World's Largest Puzzle be?! If you do make a larger puzzle I hope I hear from you, I'm sure it will be great.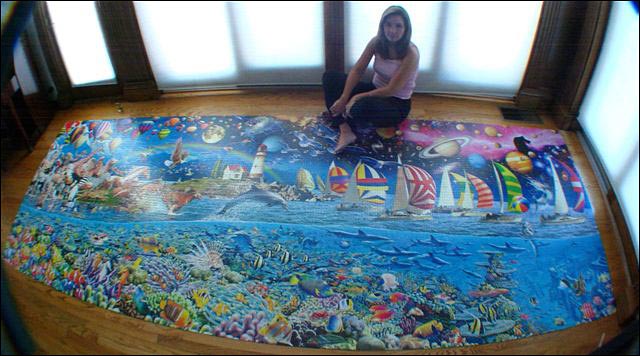 Thanks for putting this website together. It was great to read everyone's stories and what other puzzles they've done. If Educa decides to make another one it would be well worth the wait if the picture is as fantastic as this one was and Royce's work. Everyone that has come over to see it doesn't look at it as just being a big puzzle, they are looking at the picture and the wonderful colors. After reading about the artist, my husband tells everyone the story on how it was painted. I can't say enough about both, the quality of the puzzle itself was one of the better ones I've done in recent times along with the wonderful picture, you couldn't ask for anything better. Ravensburger needs to step up to beat this one, and step up alot. The Old World picture was nice but the quality of the puzzle was lacking and kind of disappointing. I didn't think a lot about it until I made this one, now I'm spoiled. The more I look at it, the more I think I will leave it together. Normally I break up the puzzle minutes after I put it together, this one I just can't find it in me to do that. I love the picture. I keep looking around to see where I could put it. I think I finally found a place, my office at work. Now I have to figure out how to glue it together on something that will support it, I've never glued a puzzle together before. It sounds like it's a major project in itself but I think it will be well worth it. I guess I've finally talked myself into what I'm going to do with it. Thanks again for putting this together for all of us.
Eileen Kuljis
---
Join the Challenge!