Click images to enlarge.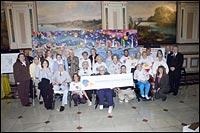 In a symbolic gesture of gratitude and recognition, Illinois Supportive Living residents from Brookstone Estates of Paris, Quincy Supportive Living for Seniors, Cambridge House of Maryville and Victory Centre of Bartlett, their families and staff participated in a nine-week collaborative effort to complete "The World's Largest Puzzle." Each senior community was responsible for one of the four sections. Puzzling time exceeded 2,000 hours and involved over 150 people. The effort was chronicled in several daily and weekly newspapers, and a video of one community's efforts is logged on YouTube (see below).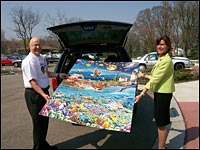 Each of the four finished sections were glued and driven separately in the back of a large van to Springfield, IL where they were seamed together, mounted and driven (on a glass delivery truck) to the state capitol where the entire puzzle was displayed during Supportive Living Week, 2008. Afterward, the completed puzzle was presented to the Illinois Department of Healthcare and Family Services, the state department responsible for creating the Supportive Living residential care model, to commemorate the state's accomplishment in securing the "missing piece" to the assisted living puzzle - affordability.

Puzzle Offers Sense of Achievement and Community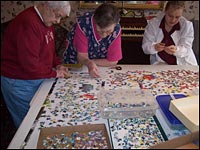 "When we found the World's Largest Puzzle online, we thought that it was the perfect metaphor for our Supportive Living program," said Liana Allison, one of the event's organizers. The Puzzle is about 'Life: The Great Adventure,' which is a wonderful theme for our seniors, many of whom having been living this 'great adventure' for over 80 years. Plus, the notions of collaboration, teamwork, and carefully fitting the pieces together were exactly what it took to create the Supportive Living program and make it the model program that it is today."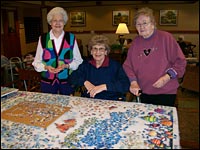 The seniors who worked on the puzzle couldn't agree more, although some were understandably overwhelmed by the scope of the work. "When it arrived, I wondered what had I got myself into," said Gail McCauslin, manager of Quincy Supportive Living for Seniors. So I just kept telling people that every piece we put in is one less piece we have to do."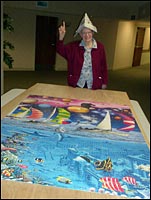 "Every time we get a piece, we knock on the table," said puzzler Ruth Toniolli who logged nearly 300 hours on the puzzle. "We just had to keep a positive attitude (and know that) we were going to get it done. Sometimes you might get frustrated, but then you go away and come back and find a piece. Then you say, 'There it is. How come I didn't see that?'" "Jigsaw puzzling holds an attraction for people of all ages. It provides therapeutic recreation as an individual or group activity and is a great way to socialize, reduce stress, focus and challenge the mind," said Rita Lopienski, one of four Supportive Living activity directors from across the state who helped facilitate the project. "Plus, the satisfaction gained from fitting in each piece generates a wonderful sense of achievement and accomplishment for all who are involved."

The "Missing Piece" to the Affordable Assisted Living Puzzle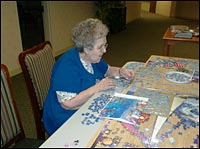 Administered through the Illinois Department of Healthcare and Family Services, Illinois' Supportive Living program combines apartment-style housing-typically studio, one-bedroom and two-bedroom suites that residents can furnish and decorate according to their own taste - with personal care and other health services. Supportive Living residents have access to services including three meals a day, housekeeping, social, educational, social and wellness activities (puzzling is often one such favored activity), help with bathing and dressing, medication management and scheduled transportation. In addition, Supportive Living residents who qualify are offered a Medicaid-funded financial assistance program, previously only available in nursing home settings, which makes the cost of these assisted living-type services more affordable to those with moderate to modest means. Beyond these tangible benefits, Supportive Living offers residents an opportunity to preserve their autonomy as much as possible, meaning residents play an active role in their own care and day-to-day decision-making. In addition, Supportive Living residents benefit from a sense of community and feeling of camaraderie that living among peers and having the option to socialize on a regular basis offers. Supportive Living also offers residents and their loved ones the peace of mind that comes with knowing that a helping hand is at the ready should they need it.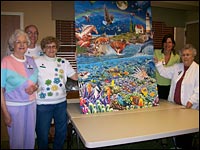 "Illinois' Supportive Living program is one of the most sensible and comprehensive affordable senior living programs in the nation," says Wayne Smallwood, Executive Director of the Affordable Assisted Living Coalition, an Illinois not-for-profit organization that is dedicated to shaping the future of affordable senior housing. "Unfortunately, people who need these services don't necessarily know that they exist, and furthermore, they have a hard time comparing their options with more traditional forms of senior care. With Supportive Living Week and our residents' remarkable puzzling effort, our goal was to spread the good word about this wonderful, affordable alternative," said Smallwood.

For more information contact:




Liana Allison, Allison-consulting@comcast.net, 847-255-5264.

Play the video: