---
FIRST TO COMPLETE IN LA LINEA DE LA CONCEPCION, SPAIN.
THIRD TO COMPLETE IN SPAIN.
July 19, 2008




Fernando Moreno Medina (23 years old) - La Linea de la Concepcion, Andalucia, Spain.


Assembled between March 10 and July 19 2008 - 216 hours. I am fascinated by puzzles. I have been doing puzzles for 5 years, The first was 1000 pieces, and so on until all the walls of my house were filled. Among these I have 6 of 1000, 4 x 3000, 1 x 5000 and 1 of 6000 pieces, apart from that I have done some as gifts. When I saw the puzzle 'Life' I did not think twice and I bought it straight away, it was amazing to see so many colors. I started the puzzle on March 10 and completed it on Saturday July 19 with a total of 216 hours of work which implies 9 days of work. I go out to work almost all day, so that is why I had to work on the puzzle during the late night hours, about 5-6 hours most days (not every day, of course).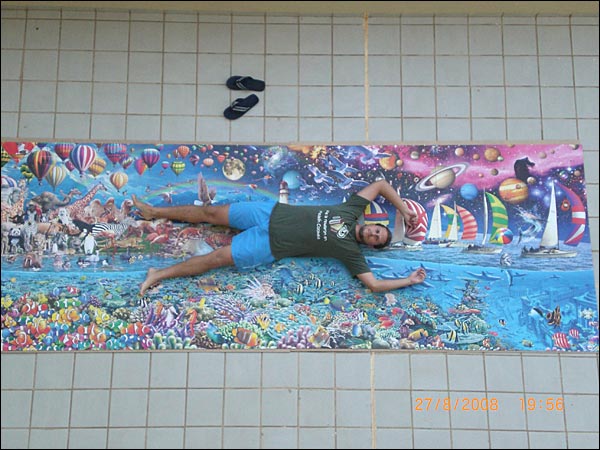 The portion of the puzzle that I personally liked best is the part where the tiger is running in the water and this huge eagle is flying away. The puzzle was not too complicated for me, except 'The lost city' which like all my colleagues who have done the puzzle, we agree is the most difficult trouble because of the many blue pieces. I completed the puzzle absolutely alone, without any help from anyone. Doing puzzles is my passion, I have a lot of patience, I do not mind going 8-9 hours at a time, as I did once. (Time flies when I am doing puzzles). I hope that there will be sequels bigger than this, if possible .. I wish to be kept informed when they are released.

Greetings, Fernando Moreno

ORIGINAL SPANISH VERSION.


Fernando Moreno Medina.
23 años
La Linea de la Concepción ( ESPAÑA )

Me fascinan los puzzles. llevo haciendo puzzles desde los 5 años,este
primero era de 1000 piezas. y asi hasta llenar todas las paredes de mi
casa .Entre estos tengo 6 de 1000, 4 de 3000 ,1 de 5000 y 1 de 6000
piezas,aparte de los que he hecho para regalos.
cuando vi el puzzle vida no me lo pense dos veces y me lo compré,era algo
alucinante ver ese temaño y tantos colores.
El puzzle lo comence el 10 de marzo y lo terminé el sabado 19 de julio con
un total de 216 horas de trabajo lo que supone ( 9 dias ).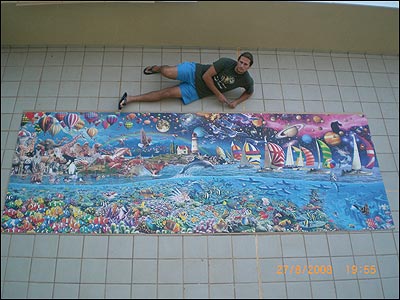 yo trabajo casi todo el dia, por lo que lo hacia durante la
tarde_noche,alrededor de 5-6 horas.( no todos los dias ,claro está )
personalmente la parte que mas me gusta es la parte donde sale el
tigre corriendo sobre el agua y ese inmenso aguila volando.
el puzzle en si ,no fue demasiado complicado para mi,excepto la parte de
la ciudad perdida,que como todos mis compañeros que lo han hecho
coincidimos que es la mas liosa y dificil,por tantas piezas azules ,el
puzzle lo he hecho absolutamente solo,sin ninguna ayuda de nadie.

Hacer puzzles es mi ilusion,tengo muchisima paciencia, no me importa
tirarme 8-9 horas seguidas como estuve una vez.( el tiempo vuela cuando
hago puzzles )
La verdad me gustaria y estoy investigando como poder trabajar haciendo
puzzles,yo los hago ,cobro por ello y este se vende como adorno..
no me importaria tener buena demanda de puzzles.

quiero felicitaros por este monstruoso puzzle y espero que saqueis
alguno mas grande que este, si es popsible.. quiero que me tengan informado
en todo momento.


un saludo .................. Fernando Moreno