---
FIRST TO COMPLETE IN MINNESOTA, USA.
27 February, 2008.




Linda Groskreutz - Pemberton, Minnesota, USA.


Assembled between December 27, 2007 and February 27, 2008. I received this puzzle for Christmas from my children and finished it in 62 days. I had a little bit of help from my daughter and a couple of her friends. It then took my husband 6 months to get it framed and to find a wall to hang it on. It was a fun puzzle to put together because of the picture being so "busy" and colorful. I also have a 9,000 piece puzzle of the "Tower of Babel" by Ravensburger and an 18,000 piece puzzle "Tropical Impressions" by Ravensburger that hang on my basement walls. I refuse to glue them as they can never be taken apart and put together again (most people think I'm crazy when I say that - but then they think I'm crazy for doing them to start with).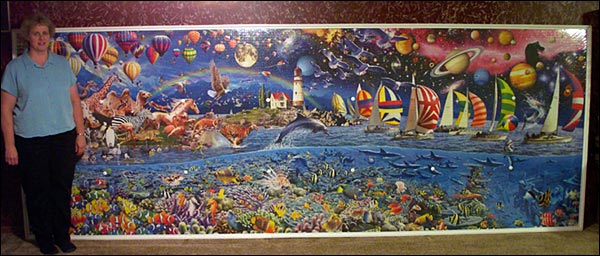 This is how I mount them so that I can take them apart and do them again some day:
This puzzle "Life - The Great Challenge" took 3 sheets of 1/2" plywood cut to size, allowing for a 3/4 border. Using drywall screws, 1" X 4" pine boards were screwed underneath at the edges and overlapping all the seams on the back side to hold the plywood together. After the puzzle was positioned on the plywood I used a 3M product that is common in states that have cold weather. It is a "Window Insulator Kit" that it commonly used on drafty windows or patio doors. I found the oversized piece at a local Menards store. It can be purchased online also. It comes in different sizes, so be sure the piece you are getting will be big enough. I raised the plywood and puzzle up off the floor by putting eight 5-gallon pails under it. I applied the 3M two-sided tape to the underside and fitted the plastic insulator kit as snuggly as possible over the puzzle and attached it to the tape. I then used a hair dryer to "shrink" the wrinkles out of the plastic. Since my hair dryer kept overheating, it took several tries to get that accomplished. The insulator kits are made to heat shrink. My husband and I then put a border around the puzzle (trim purchased at the Lowe's store that had been backcut by the thickness of the puzzle pieces). Drywall screws were used from the back side to hold the border on. Because I have a fear of the pieces bowing out and falling in a heap, I had removed 6 pieces in each of 2 rows about 1/3 and 2/3's of the way down from the top. I put them into a ziploc bag and taped them to the back side of the plywood for safe keeping. In those spots, I screwed a painted wooden "button" to give some extra hold throughout the center of the puzzle, as an extra precaution. The puzzle is now ready to be mounted to the wall. My first two puzzles are screwed directly into the wall through the borders, but this one I plan to hang using 3 screws with hooks and 3 eye screws that are attached to the puzzle. I look forward to the next "World's Largest Puzzle" that I'm sure will come out in the future. My only problem being, that I have no more walls large enough to hold any more of them, so I would have to move. The problem with moving would be that my current puzzles will not be able to be removed from the house without taking them apart. Linda Groskreutz
Pemberton, MN, USA