---
FIRST TO COMPLETE IN BATAVIA, ILLINOIS, USA.
THIRD IN ILLINOIS, USA.
April 7th 2008




Tony Miele - Batavia, Illinois.


Assembled between December 24th 2007 and April 7th 2008. Over the years I have done more 100 to 5000 piece puzzles then I can remember or count. I was on vacation in Panama City Beach, Florida and while in a shopping Mall I saw a puzzle store that had dispalyed on one wall a huge puzzle. It was a 18,000 piece puzzle and I asked the owner what was the biggest puzzle that he had. He showed me the 24,000 World's largest puzzle and when I saw it I loved the picture. I left the store thinking about the puzzle and though what a challenge it would be to do it. So I told my wife Nancy that I wanted that puzzle for Christmas so I could start it over the holidays. Before I started it I thought I would make some timeline goals. Since I just enjoy putting together puzzles, I decided that I would not use patterns and layering to complete the puzzle, just enjoy putting it together within my goal timeline. So I planned to get each 6000 piece section done within 30 days. I also I decided to randomly pick one of the bags and dump it out. With the help of my three kids Marc, Amber and Nick we turned over and organized the pieces in sections of color.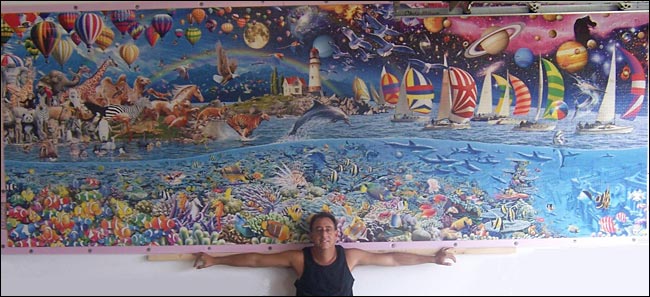 Puzzling is the best means to build patience, and organizational skills. The first section that I started was the 3rd section that I completed a week ahead of schedule so I took a break for a week, but it drove me crazy not to start the next section before my scheduled time. The second section was the 4th section and it took the full 30 days. The third section I ran over a week and the last section I used any free time I have to get it completed before April 8th. I finished it April 7th 2008. Since I really did not have any table big enough to sort and assemble the puzzle I used ten 24" x 32" poster boards to organize and store completed parts. Most of my friends were visiting and calling to get updates on the progress of the puzzle. My favorite part of the puzzle is the monkey. The easiest part for me was the balloons and the most difficult was the 'Lost City'. Then I started to research ways of hanging the puzzle. I realized if I put it in my basement I would never be able to get it out, so I decided to mount it in my garage. Since it is usually blocked by a car, I have been thinking that I would check with the local Library or School to donate it to them. I found the smaller version of this puzzle (3000 pieces.) I want to put that together this year during the holidays. At least I know I can mount this one inside my house and it will always remind me of the challenge of putting together the world's largest puzzle... Now I'm ready for the next largest... 50,000 pieces anyone? Tony Miele